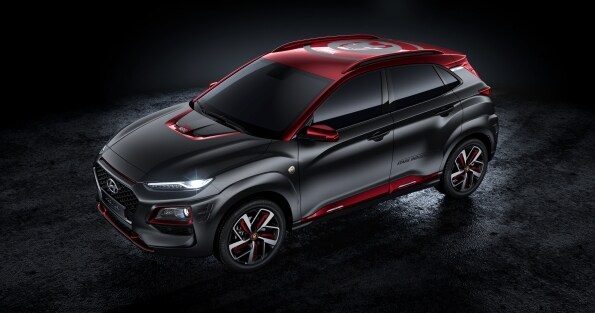 The 2019 Hyundai Kona Iron Man Edition Announced
It's not often that a vehicle comes along and you think to yourself, "Sometimes you gotta run before you can walk.", followed closely by "I told you. I don't want to join your super-secret boy band." Yet here we are, so let's investigate the inventive 2019 Hyundai Kona Iron Man Edition! A limited global run of these special editions has been made, and for fans of Iron Man (naturally) they are amazing, but honestly everyone will be WOW-ed by them regardless, guaranteed! Right up front, it has a custom daytime running light design layout that is immediately recognizable as the facemask and eye-glow of the Iron Man himself (as far as the front fascia of a car allows). It essentially looks like Iron Man is following whoever's in his sights when on the road! Up on top, for those flying over our hero, there is an unmistakable Iron Man mask face on the roof, not to mention the obvious exterior color emulation: an exclusive Iron Man red with matte gray. Let us go further into what makes this super-cool edition able to fly to the top like a rocket with arm and legs, and then pummel any competitors while it's up there!
The 2019 Kona Iron Man: Making Headlines
With a fitting debut on the opening day of San Diego Comic-Con 2018, at the Marvel booth, the Kona Iron Man Edition swooped onto the world's radar, and nobody's complaining. The Kona Iron Man Edition will be obtainable to snarky, tech-obsessed inventors as well as the rest of us within its limited global production run, in the 1st quarter of 2019. Production is set to blast off in December 2018, at least that's what J.A.R.V.I.S. is getting from Hyundai's information outlets so far.
Saving The World From Driving Too Lame.
How did this young upstart front-runner come to be? Hyundai explains: "Seeing this car come to life is like wish fulfillment for so many of us," stated Mindy Hamilton, Marvel's SVP of Global Partnerships & Marketing. "When you grow up reading comics, you dream of seeing that technology and those inventions become reality. We hope that everyone has just as much fun jumping into this one-of-a-kind vehicle as they would putting on the actual Iron Man suit of armor!" Marvel and Hyundai continue their existing partnership with this special edition, and there is more information coming in at KonaIronManEdition.com in case you simply require more information, because it's so cool. Even Chief Marketing Officer Dean Evans of Hyundai Motor America had this to say, an obvious fan: "Hyundai is excited to work with Marvel on the Kona Iron Man Edition; it really is the perfect mash up. The first time we saw the Kona, we knew its unique, rugged design drew a compelling resemblance to the strong and iconic Iron Man suit. There is also a nice synergy between the fun and adventurous nature of the Kona and the playful yet bold character of Iron Man/Tony Stark. The outcome is a remarkable special edition that we're sure will appeal to Marvel fans and SUV enthusiasts alike."
Suit Up: It's All About Appearance 
Ok, usually people aren't noticeably excited about a Heads-Up Display, but they are when it's inside the Iron Man Special Edition Kona-- just like it's inside Tony Stark's welded suit-- which certainly makes an impression! This HUD also installs red-hot Iron Man visuals, because, that not only fits in with the character, but it dovetails nicely with the caliber of what enthusiast's demand. Hyundai really pulled out all the stops on this one, for example, you will discover items like a distinctive V-shaped hood cut, an Iron Man shift lever knob, and a darkened chrome front grille. As we foreshadowed a moment ago, that unique items list continues with 18" alloy wheels with Iron Man mask center caps, custom seats, an inner surface Iron Man-engraved headlamp & D-pillars, some "Stark Industries" detailing on the lower fascia & rear door, as well as front-fender Iron Man mask badging! Of course, what billionaire-ferrying celebrity edition would be complete without an autograph? Hyundai completes the circle of adoration with a clever addition of Tony Stark's signature-- boldly right up front on the instrument panel!
Oh, One Last Thing
Hyundai Motor Company's Vice President Minsoo Kim had this to say, "Our relationship is more than just product placement as we aim to create custom experiences that resonate with the Marvel audience. The Kona Iron Man Edition is a perfect example of blending our two worlds together into one special vehicle that we hope will excite fans of both brands all around the globe." And with that apt summation, we are going to power down and recharge until needed-- but, be on the vigilant lookout for an Iron Man Hyundai Kona on your streets in 2019. Until then feel free to access our current list of
Hyundai Kona vehicles
, right here!